300/500hrs TTC

300 hours Yoga Europe Teacher Training Cyprus
Become a professional Yoga Master
You know the basics of anatomy and sequencing to give your students an intelligent and effective yoga class, but now work with a mentor to develop your own voice and master your teaching.The course work in this program is 300 hours and will qualify graduates to register with the Yoga Alliance at the RYT-500 level.
Entry requirements:
Holder of 200hrs Yoga Teacher training
Teaching experience
SKILL LEVEL
SYLLABUS OF STUDY FOR THE 300-HOUR LEVEL
Advanced Yoga Theory and Philosophy
Advanced Yoga Asanas
Advanced Pranayama techniques
Advanced Yoga Anatomy (detailed analysis of the muscles and movements in Yoga practice)
Advanced Kundalini Yoga
Yoga Therapy
Yoga massage techniques
Yoga for Kids
Pre/Postnatal Yoga
Acro Yoga
Advanced Meditation techniques
Kriya Yoga
Shatkarma practice
Introduction to Sanskrit
Yoga and Athletes seminar
Teaching techniques seminar
Personal time with Swami Dharam Ji
SCHEDULE
08:00 Breakfast
09:00 Meditation, Mantras, Pranayama and Yoga Asanas
10:30 Break
10:40 Yoga theory or workshop
12:45 Free time and lunch
13:45 Yoga theory or workshop
15:30 Yoga Asanas
18.00 Free time/Study time and later dinner
Book your space NOW!
Instructors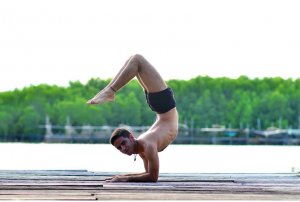 Swami Dharam Ji was born in Delhi. He got his initial education in Delhi, he had no interest in the material world and he left his birthplace to be educated at the age of 5 years old.  He moved to Haryana State of India and he entered the pure environment of Gurukul. After one year, he moved to Haridwar and Rishikesh to educated on Yoga. He took admission in Gurukul Kangri University established by Swami Sharddhanand and began to study every aspect of yoga. He learnt yoga science in the presence of well qualified yoga Guru & professors, Doctors and learnt how to use yoga in the practical life. He enjoyed the vigorous life style of Gurukul such as to get up early in the morning 04.00 am to practice Asana, Pranayama etc. He is a certified "Yoga Master Degree" awarded by GKV Haridwar University (India), with distinction. He studied Ashtanga,Kundalini and Hatha Yoga from the age of 5 years old. He is 11 times India's National Yoga Champion and 2 times World Yoga Champion.  He has a Bachelor degree andMaster degree in "Yogic Science". He has a PhD degree in "Human consciousness and Yogic Science".